The Institute of Advanced Leadership's Home Page / Transforming Leadership Throughout The World.
The Institute of Advanced Leadership is is at a crucial point now where it can have an enormous impact on the world, if it receives the assistance that will allow this to occur.
You could help us enormously at this critical time with:
Donations of old laptop computers (eg Pentium 1)
Volunteer Work (including talented and experienced corporate trainers willing to pay for their own travel to places like Uganda (for anywhere from a fortnight to a year), Sales & Marketing, Fundraising, CD-ROM/HTML Development, etc)
Good Books and Audio Visual Materials for our Ugandan Public Library. (Send to PO Box 34001 Kampala Uganda)
Using us to provide your corporate training on Leadership, Teambuilding, Customer Service, Training of Trainers or many other areas. (All of our training revenue is used to further our international work.)
Joining our Leadership Mastery Program.
A monetary donation:


We need US$100,000pa to keep operating in the current ultra-frugal way: Our Executive Chairman used his own savings, credit cards and mortgage to get the work underway in Uganda and hasn't paid himself a salary since starting the work there. He lives frugally to ensure all expenses are minimised so that the Institute can help as many people as people with the limited resources it has, but running an international operation of the size and scope of the Institute isn't cheap.

An additional US$20-40,000pa will allow us to take up the very kind offer of an amazing man, the Rev. Robin Tippo, to work full time as a volunteer as our Country Director for Rwanda, and to set up a permanent branch of the Institute in Rwanda. (Immediately after the genocide Rev. Tippo came to Rwanda and set up his own Insitute to teach love, forgiveness and tolerance. As a result he was the victim of a massacre, narrowly escaping death.)

A further US$50,000pa will allow us to :
- Hire a full time person to act as our Executive Chairman's 2nd in charge - so he can delegate the miriad of details and follow-up-work that's required, freeing him up to better utilise the amazing opportunities that are becoming available to us.
- Pay some bonuses to our 16 staff, most of whom have worked for over a year as full-time volunteers (with just a small daily food & transport allowance).
- Allow us to produce a large number of CD-ROMs to distribute to leaders in countries such as Uganda, Rwanda, India etc.
- Fly people where they can make the largest difference: eg. To take up offers by Australian trainers who are willing to do some work in Uganda & Rwanda if we pay for their air-fare. This would relieve the pressure on our main trainer in Uganda who travels almost 200km a day to present our evening Diploma. And allow us to provide high-level training which might otherwise only be done by our Chairperson.
- Buy a Video (and computer) Projector so that large groups of participants don't have to all look at a 20" TV screen. (This has since been donated to us.)

An additional US$150,000 will provide much of the funding needed to run the programs necessary to create reconciliation between the Hutus and Tutsis in Rwanda to substantially increase the likelihood that there are no more genocides.

In 1994, in a country of 7m people, 1m Tutsis and moderate Hutus were killed and 2.5m displaced. In the previous 30 years there were numerous massacres killing 300,000 people. The current government is a good one that is committed to unity and reconciliation. However they are primarily made up of Tutsis who represent only about a sixth of the population. And the wounds of the genocide are still fresh in everyone's minds. So the need for reconciliation is paramount and urgent.

The Unity and Reconciliation Commission of Rwanda are seeking U.N. and other donor agency's financial support to run these programs. We hope they receive this funding in order to pay for the programs. However the work is far too important to lie back and simply hope. So we are also seeking direct funding either to pay for the program if no outside funding can be found, or to significantly expand the impact and reach of the programs if funding from the U.N. or other agencies are forthcoming. Please contact Tony Lenart if you would like a copy of the budget and training outline for these programs.

P.S. An alternative to making a donation, for those who are willing to make a large investment in becoming extraordinary leaders, is to join our Leadership Mastery Program.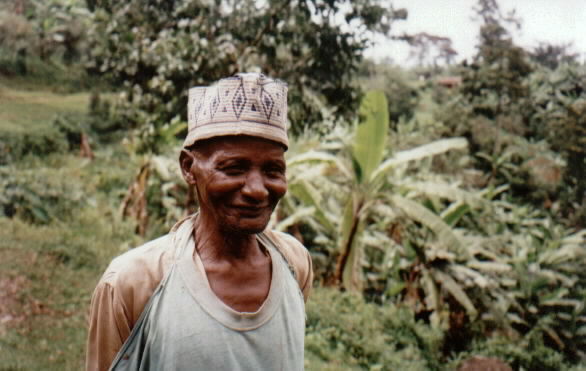 One of the beautiful country folk from Uganda
PERSONAL LETTERS FROM UGANDA (AND RWANDA) DETAILING THE DEVELOPMENT OF THE INSTITUTE IN AFRICA

Tony's first trip to Uganda was in November, 1999. If you wish, you can see a pictorial summary of this trip.

Letter 1: "Transforming Uganda" - Tony's first letter detailing the level of interest in his first courses and his plans for establishing the Institute in Uganda (April 2000)

Letter 2: A Personal Letter outlining the immense difficulties and obstacles Tony faced in establishing the Institute. (July 2000)
This letter was titled "The Deepest Form Of Happiness Is The Experience Of Expressing Unconditional Love - But Loving-in-action Isn't Always A Bed Of Roses. (Or Should I Say That Like A Bed Of Roses, There Are Also Some Thorns)"

"Letter" 3: Actually more like a note - or a short letter - to donors, describing some of the purchases their donations had allowed. (14th October 2000)

Letter 4: A letter to donors - describing Tony's immense gratitude for their assistance, the difference they were making, the Training of Trainers Program, and how well the volunteers were doing as trainers. (26 October 2000)

Letter 5: "On Death, Positive Changes, And Impacting A Country ... A Letter From Uganda" (November 2000)

In April, May, June & July 2001 Tony visited Uganda & Rwanda twice, as well as India. He wrote numerous short emails but no letters during these trips.

"Letter" 6 (mp3): Actually a voicemail from Rwanda (November 2001) To download one of these files use the right mouse and choose "save target as".
"Letter" 6 (mp3) (2.2Mb - Recommended download: Best quality & compatable with any player, )
"Letter" 6 (wma) (1Mb - Lower quality & needs a reasonably recent version of Windows Media Player. This program is included with Windows. However, if you have an old version of Windows and haven't updated Windows Media Player, you may not have the updated version.)

In January and February 2002 Tony ran a training for the entire Rebel Government (178 participants) of Eastern Congo, teaching Conflict Resolution and other skills in order to maximise the chance of achieving peace through establishing a Government of National Unity, at the Inter-Congolese Dialogue held 3 weeks after the training. (UNICEF say that over 2 million people have died as a result of this war, and 15 million people are starving.)

Between April and August 2002 Tony worked in Hong Kong, Uganda, Rwanda and the USA focusing on building the Institute's organisational capacity and working on being able to provide World University of Leadership's programs in Africa. He hasn't as yet written any letters to summarise these trips.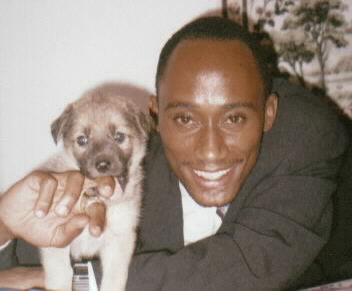 Our Country Manager for Uganda, Robert Kayanja - and the Institute's dog, Zion
---

Read some of the good news that the papers don't talk about
Across the world, mortality rates have almost halved in the last 20 yrs, real average incomes doubled, access to safe drinking water increased from 10 to 60%.....


Setting up a major new charity in Uganda - with The Hunger Project

The Institute's Purpose, & its Voluntary Board of Directors

Tony's letters to his friends back home,describing the work in Africa

© Copyright 2001, The Institute of Advanced Leadership. (www.ioal.org) All rights reserved. Last updated 25th September, 2001
---
Main Pages: Home | Heaps of Free Resources (WorldUni.com) | Transforming Leadership Throughout The World | A Summary of Our Programs Training: Group Training | One-on-One Leadership Development | Performance Improvement Intensives Additional Information: Our Trainers & Facilitators | Our Purpose, Activities, & Directors | Testimonials | Options | Our Floating (City) Office, Other Offices, & Our Weekend Retreat Miscellaneous: Thoughts On Leadership | Contact Us