The Institute of Advanced Leadership's Home Page / Transforming Leadership Throughout The World.
The Institute of Advanced Leadership:
Working to end Poverty and Wars throughout Africa and the World


In the last decade 1000's of people have died from terrorism in the U.S., and from wars in the Middle East.
In the same decade, one million people died in the Rwandan genocide
(along with another 300,000 in massacres during the preceding 30 years);
and according to the I.R.C. and U.N., over three million have died
as a result of the war in the Democratic Republic of Congo.
These are amongst the worst human tragedies since World War II.

The Institute of Advanced Leadership have helped to end a rebel war,
helped to end the war in the Democratic Republic of Congo (DRC),
and have improved the leadership capacity of thousands of African leaders.

One of DRC's new Vice-Presidents (who we have worked closely with)
has asked us to train the new government of national unity
in the skills, approaches and attitudes that would enable them to solidify peace,
and to build the type of government
that would enable the 15 million people on the edge of starvation (out of a population of 56m)
to survive and prosper.
With your help we can provide hope for these 15 million starving people in the DRC,
significantly decrease the chance of a future genocide in Rwanda,
and help leaders from all African countries to gain a university degree in leadership
that will give them the skills to create real change in their society.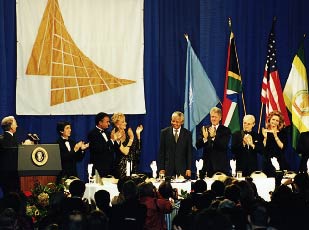 Nelson Mandela receiving the "Africa Prize for Leadership" from The Hunger Project (a friend of the Institute). To his left are President Clinton, and THP Directors: Javier Pérez de Cuéllar (former UN Secretary-General) and Queen Noor of Jordon.
THE AIM OF THE INSTITUTE OF ADVANCED LEADERSHIP
Our aim is to be a catalyst in transforming the world through transforming leadership: to influence as many influential people as possible to have the greatest positive influence on their organisations and countries as possible.
It's our intention:
- to help Government Leaders to be more visionary and to see themselves as Servant Leaders;
- to help Charity Leaders be more effective;
- and to help Corporate Leaders to be more profitable through adding value, being honest (and thus inspiring trust), looking after their staff, and contributing to their society.
We believe Zig Ziglar's creed that "You'll get whatever you want in life if you'll just help enough other people get what they want". And we also accept the Dalai Lama's assertion that "There is no difference between the truly selfless person and the wisely selfish person".
So you could say that our aim is to teach people to be wisely selfish. (Of course the emphasis is on improving our wisdom rather than our selfishness: People are already quite practised at being unwisely selfish - and therefore unhappy, unfulfilled, and limited in their success.)
And as wars and poverty are caused by people's behaviours, attitudes, beliefs and approaches, it is possible to overcome these through teaching people to achieve what they want in a way that is better for themselves - and everyone else.
And so we will keep working till the world is free of poverty and where the great mass of men and women lead lives of deep fulfilment.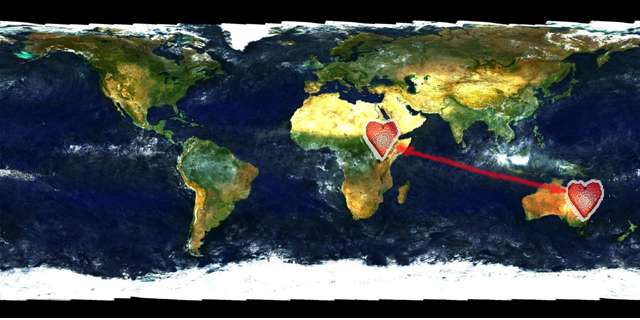 "In a global world, one can only be at peace if there is global peace.
In the past, wars (open or covert) were limited to the countries that waged them.
You could ignore a war provided it was far enough away from you.
Now there is no longer any such thing as far enough.
Unless everyone is at peace, everyone is under threat."
- Samuel Sagan (written shortly after the terrorist attacks on the World Trade Center and the Pentagon.)
Read how you can make this work a reality

© Copyright 2003, The Institute of Advanced Leadership. (www.ioal.org) All rights reserved. Last updated 13 January 2004
---
Main Pages: Home | Our Partners in Transforming Leadership: - The World University of Leadership | Transforming Leadership Throughout The World | A Summary of Our Programs Training: Group Training | One-on-One Leadership Development | Performance Improvement Intensives Additional Information: Our Trainers & Facilitators | Our Purpose, Activities, & Directors | Testimonials | Options | Our Floating (City) Office, Other Offices, & Our Weekend Retreat Miscellaneous: Thoughts On Leadership | Contact Us