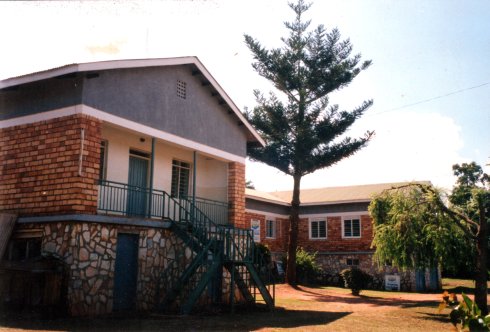 The front entrance to IAL-Uganda's campus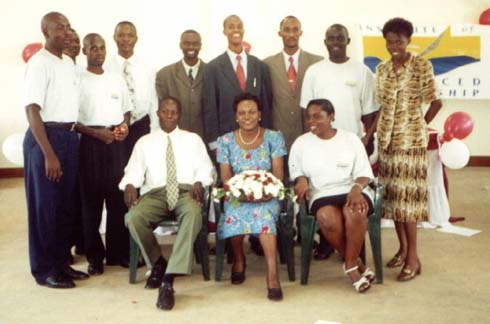 Some of the Ugandan staff who worked with IAL (Uganda)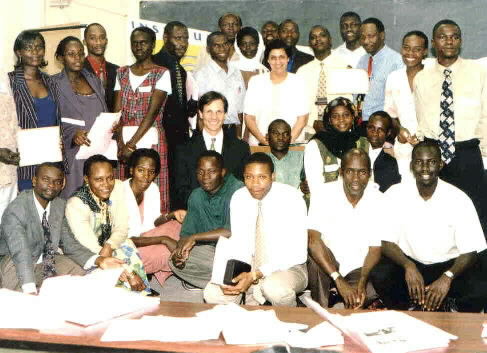 Our first "Training of Trainers" Group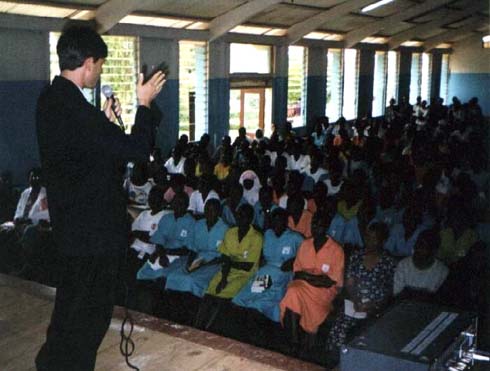 Presenting to 400 future leaders.
THE INSTITUTE'S WORK IN UGANDA
The Institute's mission is to be a catalyst in transforming the world through transforming leadership.
Our first step in achieving this was to establish the Institute in Uganda - to improve the outlook, approach and skill-sets of Uganda's managers, and to bring in a style of training which literally changes people so they, and the country's N.G.O.'s, Government Officials and Corporations become so effective that they will bring about the end of poverty, and create conditions in which people will lead more fulfilling lives.
In November 1999 we were involved in setting up a major new charity in Uganda - with The Hunger Project, the assistance of Uganda's President and Vice President, and with U.S.$400,000 (over 2 years) provided by 6 of our clients. This charity held a major Forum on how to end hunger in Uganda. One of the main factors that participants identified were missing in Uganda was good training on Leadership and Personal Development. This provided the initial impetus for the Institute to come to Uganda and begin its training work there.
Since our first workshop in Uganda in March 2000, our International Chairman, Tony Lenart has trained over 1200 people from 100's of organisations, in 14 seminars. Participants have included Chairpersons, Directors, MD's, GM's, Commissioners, Dept. Mgr's, and Co-Ordinators from The President's, Prime Ministers, and First Lady's Offices; Various Ministries; PAP; UNICEF; YWCA; THP; British Aid; Concern Worldwide; and Professors, Lecturers and Students from Makerere University, UPK, ITEC etc.; plus a variety of Corporations.
Mr Lenart has run six "Advanced Leadership - Level 1 Certificate" Programs (on Empowerment, Vision, People Skills, How to become a Great Manager, etc.), an "Advanced Leadership - Level 2 Certificate" Program (on Time Mgmt, Conflict Resolution, Decision Making, Teambuilding etc.), a Customer Service Program (for MTN), a Teambuilding Program (for THP), a mini-seminar on "Succeeding in Life", a program for 160 Small-Scale Entrepreneurs, a Personal Development Program, a Leadership and Presentation Skills program for all the Heads of Departments at Uganda's Polytechnic, and two "Training of Trainers" Programs. (Most seminars have about 50 participants, but have varied from 14 to 400.) Tony has also presented a number of Talks and Keynote Speeches.
Overall, participants have rated each seminar as exceeding expectations by 238% for the overall course, by 359% in terms of its usefulness, and by 349% in terms of the presentation style.
To spread the trainings further, we trained 7 of our own trainers and licensed another 43 trainers to present our courses under their own organisation's banner.
In June 2000 we moved into a 4 room office in Kampala. However this quickly proved to be too small for our rapid growth and so in July 2001 we upgraded to a small campus with 14 training rooms, a library, computer training rooms, counselling rooms and offices. And are in the process of constructing live-in accommodation for students from outside Kampala to stay in when attending our courses.
Our Ugandan staff ran workshops and Diploma programs 6 days a week (on average) for a variety of Corporate, Charity and Government leaders (including a number from the President's Office). As an example, in August 2001 they ran 4 weekend workshops on Presentation Skills, Negotiation, Stress Management and Customer Service; as well as 22 evening programs for the Diploma students; and provided computer training, job skills training for school-leavers, and private counselling.
Our Diploma of Advanced Leadership provided the most in-depth and practical Diploma available in the country in the field of leadership. (In fact one graduate of our seminars said she learnt more in the 3 day program then in the whole Diploma she had just done with another institution.)
We were very blessed with the type of people who were attracted to the work of the Institute: We had 16 full-time trainers, staff and volunteers, as well as a voluntary Board of Directors which included the RDC (Governor) of Yumbe, a former Local Government Minister (now a Professor), a Commissioner of the Ministry of Public Service and many other very experienced and talented people. One of our trainers, Ambrose Kibuuka also worked in a very senior role with Uganda's leading University, yet he is was so committed that 2-3 nights a week he traveled from one end of the globe to the other (100km each way from the Southern Hemisphere to the Northern Hemisphere) in order to be able to present our programs.
Our training rapidly became recognised as the best training in the country. We featured in the Ugandan media close to 100 times, including dozens of hours of live-to-air interviews. We were contracted to train all of the Country's RDC's (Governors) and Deputy RDC's, and asked to train its top military officials. We've also trained the newest employees of Uganda's leading corporation (MTN) who were ecstatic at the results.