FREE BOOK DOWNLOAD
"How to become one of Uganda's best paid CEO's"
For reader's of the Observer Newspaper article
"Tony Lenart turns rebels into saints"
MAIN PAGES:


TRANSFORMING LEADERSHIP THROUGHOUT THE WORLD: OUR WORK IN UGANDA & RWANDA

WorldUni.com: FREE ARTICLES, AUDIO VISUAL MATERIALS, BOOKS, ON-LINE COURSES, LINKS, PERSONALITY PROFILES ETC.
TYPES OF TRAINING PROVIDED:


One-on-One Leadership Development

Performance Improvement Intensives (For "Problem" Employees)
ADDITIONAL INFORMATION ON OUR WORK:

Our Purpose, Activities, & Directors

Testimonials

Options: - A List Of Areas We Cover In Our Courses

Our Floating (City) Office, Other Offices, & Our Weekend Retreat
MISCELLANEOUS:

Some Interesting Thoughts On Leadership By CEO's & Other Leadership Authorities
The Institute of Advanced Leadership is a non profit organisation established to transform leadership throughout the world -
by training tens of thousands of leaders in Uganda, D.R.Congo, Rwanda, Burundi, Kenya, South Sudan, India and other countries.
by helping to end wars and sustain peace, by teaching conflict resolution and mediation to belligerents from all sides.
by teaching corporate and non-corporate leaders in developed nations to become the sort of people who bring out the best in others;
through providing One-on-One Leadership Development, Coaching and Counselling; as well as Performance Improvement Intensives for problem employees;
by providing group training in leadership, teambuilding, customer service and other "soft skills";
and through providing resources, support and training to help other trainers, coaches and facilitators to achieve extraordinary results with their own clients.
We are acknowledged as leaders in the area of human dynamics - and all our work centres around this area of expertise. Our group training has been used by scores of the world's top companies, and we are the world's leading supplier of One-on-One Leadership Development, a new form of leadership development which is yielding incredible results.
We specialise in:
And we also provide the following services:
Keynote Speeches (which are inspiring & motivational)
Conflict Resolution
Consulting
Special Projects.
TRANSFORMING LEADERSHIP THROUGHOUT THE WORLD
When you use the Institute to improve your organisation's profitability, you're also funding many programs which will contribute to world peace, and the end of hunger, through transforming leadership throughout the world.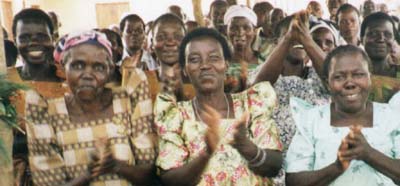 In late 1999 we were involved in setting up a major new charity in Uganda - with The Hunger Project, the assistance of Uganda's President and Vice President, and U.S.$400,000 (over 2 years) provided by 6 of our clients.
In 2000 we set up the Institute of Advanced Leadership - Uganda, which helped make an enormous difference to the country. (Note: IAL-Uganda is now operating autonomously and IAL-Australia is no longer associated with it.) Thousands of people from well over 100 organisations were trained in numerous seminars. Participants include many senior managers from various NGO's (charities), Government officials from the President's & the Prime Minister's Office, and managers of many other organisations with a large impact on the county.
A Leadership Library was set up with numerous books, tapes, videos, computers, software and internet resources. And we trained 150 trainers to run our program under their own organisation's banner.
In 2001 we started working in Rwanda. We designed a very powerful process of reconciliation for Rwanda, and worked with their Unity and Reconciliation Commission to try to ensure this program reaches all their leaders and most of the country's population. We've also ran a number of programs (and been asked to run more programs) for many of their top corporate, Charity and Government officials.
During the year our trainings in Uganda and Rwanda resulted in many positive benefits including bringing about the end of a war.
In 2002 we worked in the Democratic Republic of Congo training the entire Rebel Government (178 participants) of Eastern Congo, teaching Conflict Resolution and other skills in order to maximise the chance of achieving peace through establishing a Government of National Unity
In mid 2002, IAL-Uganda began acting as agents ro the World University of Leadership to enable African students to study their Bachelors and Masters Degree programs (specially designed for Africa).
Much of this work has been done at heavily reduced prices (through the support of people and organisations like yours).
For more information, please go to Transforming Leadership Throughout The World.
WE BELIEVE
Great managers are great at bringing out the best in their staff.
They know themselves and have developed themselves.
So they know their staff and how to develop them.
And they care for their staff.
As a result, their staff perform at their very best,
and care about their colleagues, their customers, and their companies.
And so their companies prosper
- and achieve results that leave their competitors in their wake.